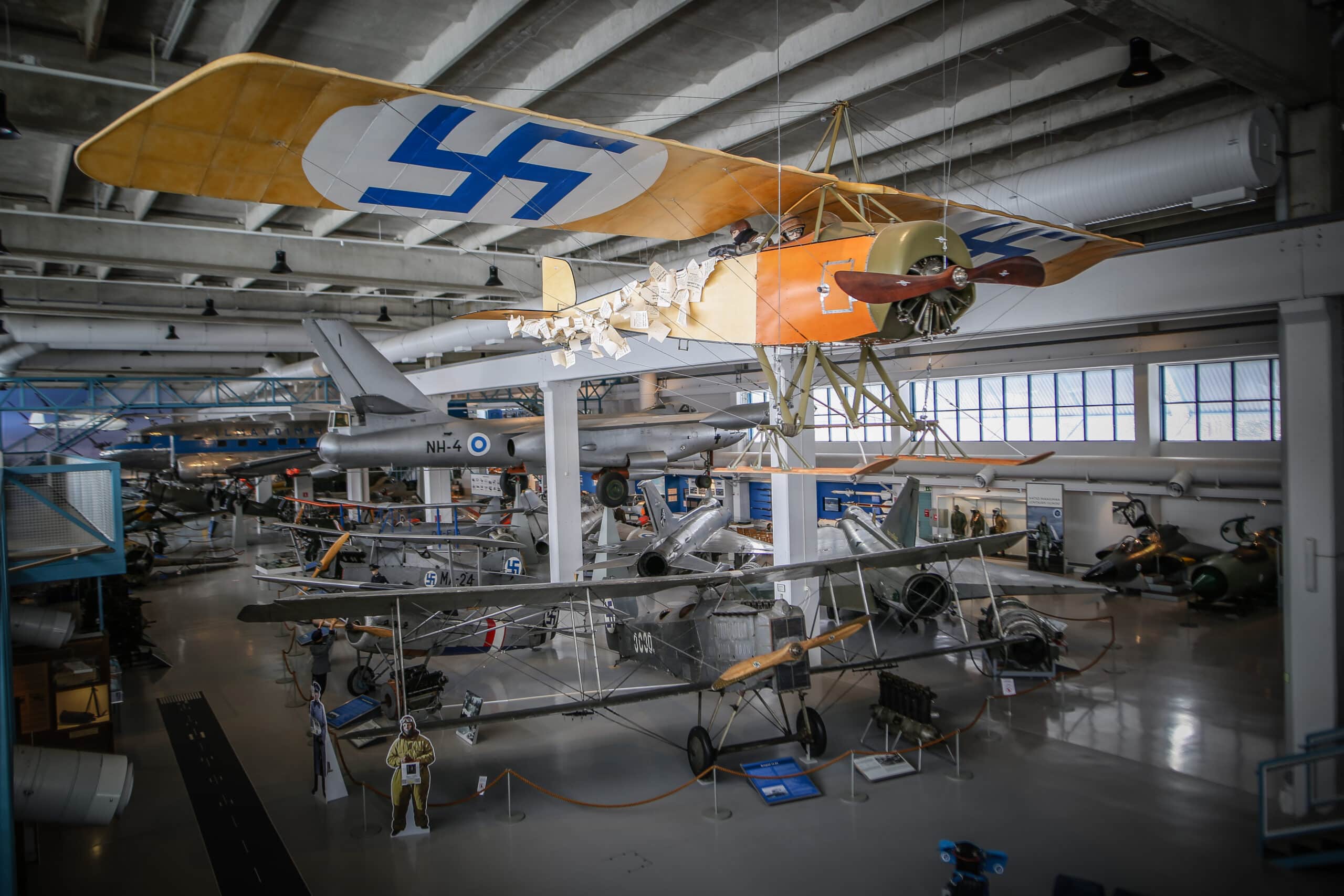 Main exhibition
Exhibition
Permanent exhibition
The main exhibition presents the history of the Finnish Air Force from the 1918 Civil War to the turn of the 21st century. The aircraft are arranged in the exhibition space in chronological order, with a couple of exceptions.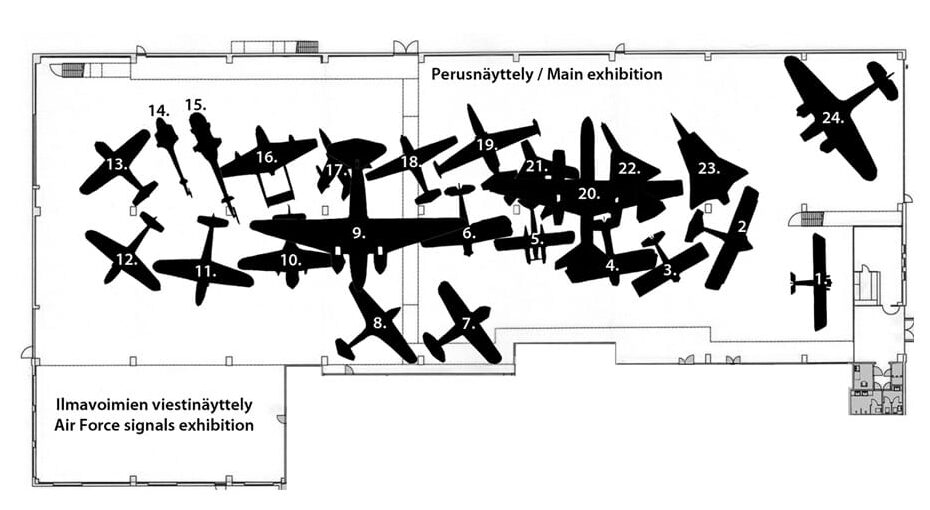 Currently, the following planes are on display in the permanent exhibition:
1. Thulin typ D (F.1) (replica)
2. Breguet 14 A2 (3C30, BR-30)
3. Gourdou-Leseurre (8F.12)
4. Martinsyde F.4 Buzzard (MA-24)
5. De Havilland D.H.60 Moth (OH-EJA)
6. Focke-Wulff FW 44 J Stieglitz (SZ-4)
7. Brewster Model 239 (BW-372), on loan from National Naval Aviation museum until 2024.
8. Hawker Hurricane Mk. I (HC-452)
9. Douglas DC-3/C-47 (DO-4)
10. Fokker D.XXI (FR-110)
11. Messerschmitt Bf 109 G-6 (MT-507)
12. VL Pyörremyrsky (PM-1)
13. Valmet Vihuri (VH-18)
14. Mil Mi-1 (OH-HCR)
15. Mil Mi-4 (HR-1)
16. De Havilland D.H.115 Vampire Trainer Mk.55 (VT-8)
17. Folland Gnat Mk.1 (GN-101)
18. Saab 91D Safir (SF-2)
19. Fouga CM 170 Magister (FM-45)
20. Iljushin IL-28R (NH-4)
21. MiG-15UTI MU-4)
22. MiG-21F-13 (MG-92)
23. Saab 35FS Draken (DK-223)
24. Bristol Blenheim Mk.IV (BL-200)
In addition, in the exhibition:
Tiira I (Raimo Päätalo's do-it-yourself aircraft)
DFS 108 Weihe (OH-WAB)
SZD-22 Mucha Standard (OH-258)
Cockpits you can sit in:
Saab 91D Safir (SF-8)
MiG-21bis (MG-136
Saab J 35FS Draken (DK-233)
Fouga CM 170 Magister (FM-33)
Cockpits are not museum objects.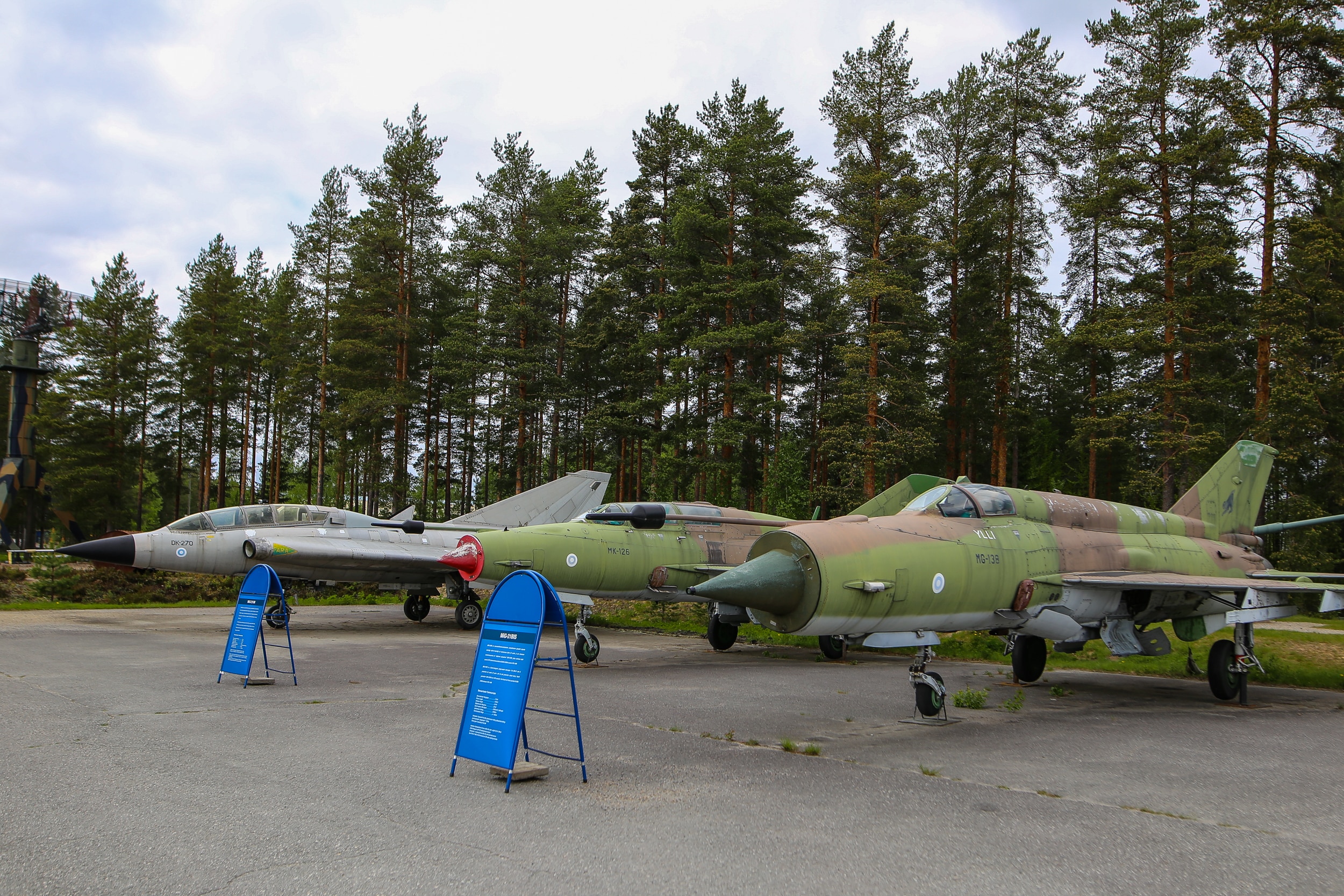 Planes on display in the outdoor area
Saab 35CS Draken (DK-270)
MiG-21bis (MG-138) ("Ylli")
MiG-21UM (MK-126)
Mi-8 (HS-1)
Folland Gnat Mk.1 (GN-104)
Decoration vitrine of the Knights of the Mannerheim Cross
During the Continuation War 194145 191 soldiers were appointed Knight of the Mannerheim Cross 2nd Class. The cross was awarded for extraordinary courage and resourcefulness shown on the battlefield. A total of four soldiers were awarded the Mannerheim Cross 2nd class twice.
Nineteen Knights of the Mannerheim Cross were appointed to the Air Force, four of which with their crosses are part of the museum's collections: Warrant Officer Viljo Salminen, Warrant Officer Ilmari Juutilainen, Lieutenant (later Captain) Paavo Kahla and Lieutenant (later Captain) Lauri Äijö. The Mannerheim Cross was awarded twice to Juutilainen, from whom, in addition to the cross, a buckle depicting crossed batons indicate a second award of a 2nd class cross, is displayed.
In the past, badges and crosses have been kept in a safe for security reasons and have not been visible to the public except for special occasions. In 2020, the museum, together with the Foundation for the Knights of the Mannerheim Cross, acquired special vitrines, thanks to which the decorations and the Mannerheim Crosses are permanently displayed in the main exhibition.
Virtual museum 360° tour
Explore the 360° exhibition virtually! Panoramic images give a new view of the Finnish Air Force Museum. You can turn, look up and down, and even zoom to count the number of staples on the DC-3 body. The photos are taken by Mika Ajomaa and donated to the museum.